George Spencer Hoffman [1875-1950] enjoyed a remarkable & fascinating life of some 74 years, one which began in the affluent suburbs of south west London and ended in quiet retirement in the delightful coastal hamlet of Apuldram, a couple of miles southwest of the town of Chichester in West Sussex.
It is perhaps fitting that Chichester should have witnessed the passing of one great artist in 1950, when, some 60 years earlier, albeit briefly, it had also been the childhood home of an equally talented artist & a close contemporary of Spencer Hoffman, and the man with whom he perhaps invites the closest comparison: Leslie MacDonald Gill [1884-1947]. It had been as a teenage school child in Chichester that Gill had first discovered his special gift for designing and drawing maps.
Both men were products of the late Victorian era, both influenced by the artisitc style of William Morris and the Arts & Crafts Movement. Both were accomplished draughtsmen, illustrators & watercolour artists as well as professionally qualified architects.
And like Gill, Spencer Hoffman was an exceptionally gifted pictorial cartographer, both with a particular gift of transforming two dimensional cartography into wonderfully imaginative three dimensional bird's eye perspectives.
Though Spencer Hoffman's published output was relatively modest in comparison to Gill's and lacked the idiosyncratic humour & chaotic fun that so characterizes Gill's productions, his artistic skills & accomplishments still merit detailed study. And with it, the chance to trace Spencer Hoffman's own uniquely personal, professional & cartographic journey and put it firmly "on the map":
George Spencer Hoffman was born in Putney, South London on September 17th 1875 and baptised two months later at Holy Trinity Church, Wandsworth. He was the eldest son of medical inspector / practitioner, Henry Westwood Hoffman [1836-1922] and his wife, Georgia (née Darton) [1841-1917]. His parents had been married at All Souls, Marylebone in October 1868.
Born in Margate, the son of a doctor, Henry Westwood was also a qualified medical practitioner who had served as a Medical Officer in several HM Prisons before taking up a position as Government Home Office Inspector in the curiously named Burial Acts Department around the time of George's birth. His work here involved the supervision of many of the newly created public cemeteries which began to be created to meet the needs of London's ever-expanding new suburbs and rising population. Archives reveal his involvement in several public inquiries, including two relating to a proposed new 34-acre cemetery in Golders Green in the 1880s & 1890s. His aim was to ensure that such cemeteries were established & managed in full compliance with the mid-19th Century Government Burial Acts and without causing any potential dangers to public health. In the 1890s he also appeared before a number of Government commitees in his capacity as Inspector of Retreats – places of treatment for those battling alcohol addiction – as established under the Victorian Inebriates Acts of 1879 & 1888.
One of five siblings, George had an elder sister Georgia (b.1873), a younger brother Harry (1877-1946) – who like his father would enter the medical profession – and two younger sisters Gertrude (1879-1907) & Evelyn (1886-1952).
In the 1881 & 1891 Censuses the family are recorded residing at Cambridge Lodge, West Hill Road, just off West Hill in Wandsworth.
Like their father, George and his younger brother Harry would attend Clifton College in Bristol, where they are both listed as students in the 1891 Census.
And again following in their father's footsteps they would both progress to Trinity College, Cambridge University in 1894 & 1895 respectively.
George graduated with a BA [1897] & MA [1901] and appears to have progressed swiftly into the field of architecture, studying under the renowned British architect, Sir Arthur Blomfield [1829-1899] who was himself, interestingly, also an alumnus of Trinity College, Cambridge.
Amongst Blomfield's most famous architectural designs were Selwyn College, Cambridge [1882]; The Royal School of Music [1887]; the restoration of Salisbury Cathedral's spire [1898]; and the new Bank of England.
Spencer Hoffman must have joined Blomfield's practice in the final two years of the elderly architect's life, probably directly after his Cambridge graduation. In 1890 his two sons, Charles J & Arthur Conran, had been brought into the business which was subsequently renamed Arthur W Blomfield & Sons.
In October 1902, Spencer Hoffman married Glasgow-born Charlotte Hope Tosh [1871-1948], having recently become a junior partner in the practice of another highly respected London architect, Edward Otho Sachs [1870-1919].
A month earlier, in September 1902, Spencer's Hoffman's designs for the new Police Courts and Fire Station in Sunderland – an indication of the focus of the new partnership's work – were, entered under the pen name Spero ("I hope") and highly commended in a public competition assessed by Mr J Gibson ARIBA with entries displayed in the Municipal Buildings in Sunderland.
Sachs' pioneering work on fire prevention in public buildings, especially theatres, revolutionized attitudes and approaches to building & construction methods in the early 20th Century. From 1898 he had been closely involved as official architect & consultant to the Royal Opera House, Covent Garden, supervising the installation of a new electrically powered multi-section stage and mechanical gridirons for the raising and lowering of scenery to replace the old manually-operated wooden "flies". These were completed for the opening of the new Opera season in May 1901.
Born in London in 1870 to German parents, Sachs had studied at London University and at the Berlin Königliche Technische Hochschule in Germany. He also spent time working with the Berlin, Vienna and Parisian Fire brigades and qualified as an architect in 1892.
On his return to England, he became head of the British Fire Brigade Union and, in 1897, with the support of a wide range of engineers, surveyors, builders, firefighters, police officers and politicians, formed the British Fire Prevention Committee. The Committee was the first to build testing stations in Regent's Park to carefully validate & review the fire resistance and combustibility of commonly-used construction materials. Both Sachs and Spencer Hoffman were involved in many of these tests. Results were quickly incorporated into contemporary construction. Amongst the innovations this brought was the much wider use of reinforced concrete (Portland cement) on account of its fire-resistant qualities.
One of the first buildings to be designed & built by the newly formed Sachs-Hoffman partnership was the Shannnon furniture factory in Hackney's Tyssen Street, now a block of residential flats known as Springfield House.
In 1903, Sachs was the prime mover behind the International Fire Exhibition at Earl's Court. The official guide to the Exhibition reveals his overarching influence in both the event's meticulous organisation and wide-ranging displays. It also highlights a minor role for Spencer Hoffman, who is recorded as Secretary of the Exhibition's official Ambulance Committee. This is the first indication of Spencer Hoffman's interest in medicine & medical training (no doubt influenced by the many members of his family – grandfather, father and brother – who were qualified doctors) and which explains his subsequent decision to join the Royal Army Medical Corps at the beginning of World War I.
Hoffman's partnership with Sachs was dissolved in June 1905. We know little of his career development during the next decade, though in 1906 he and his wife were resident in Adelaide Road, Surbiton. By 1911 the Hoffman family had moved back to Wandsworth and are recorded with their eldest son, Henry Lovell (aged 5), at the Dial House, No.3 West Hill Road in the official Census.
With the advent of the First World War, George was commissioned as 2nd Lieutenant in the 2nd London Sanitary Company (RAMC) in June 1915 and subsequently promoted to the rank of Captain in December of that year, shortly after being posted to France.
He would witness at first hand the horrors of the Battle of the Somme in July 1916. Shocked & horrified though he must have been, Spencer Hoffman gives little sign of it in the touchingly observed watercolours and wonderfully detailed pencil & ink sketches in several wartime sketchbooks, now held in the archives of the Imperial War Museum, a sample of which appear below:
Coincidentally the above sketch of Bray sur Somme by Spencer Hoffman is taken from an almost identical viewpoint to one featured in our previous blog post on pictorial cartographer, Ernest Clegg [1876-1954], who also served as a British Army officer on the Western Front during World War One. He was a Major with the 7th Bedfordshire Regiment and, in early 1916, was its acting Commanding Officer. In May 1916, whilst posted in reserve behind the front, the 7th's Battalion HQ was located in Bray sur Somme, in the Rue Gambetta, to the right of the church, in a building just beyond what was the village cafe on the street corner in the right background. Clegg would be badly wounded in a heavy German artillery bombardment of the adjacent sector of the British front on 26th June 1916 (as depicted below by Spencer Hoffman on the day before Clegg and the 7th Bedforshires moved up to the front line at Carnoy (in right of image) with other units of the 54th Division) and, just a few days prior to the terrible opening hostilities of the Battle of the Somme.
It is interesting to speculate whether Spencer Hoffman or his medical unit may have treated the badly wounded Clegg and his comrades in one of the local RAMC field hospitals.
Spencer Hoffman returned to civilian life in late 1918, and gradually re-established his career as an architect. He officially retired from the RAMC, due to age, in September 1921.
It was during the 1920s that Spencer Hoffman's talents as a pictorial cartographer first became more widely known.
And it was during this same period that Spencer Hoffman and his wife joined the glitterati of the day – leading academics, artists, writers, actors & film stars, politicians, and wealthy society figures – who beat a regular path each weekend from London or nearby Oxford to the dining tables of a newly established country hotel, The Spreadeagle, located in the village of Thame in Oxfordshire.
It had been acquired in 1922 and fully refurbished with tasteful antiques by the notoriously eccentric "pioneer amateur innkeeper" (as he described himself in Who's Who), John Fothergill [1876-1957], now probably best known for his oft-reprinted memoir, An Innkeeper's Diary [1931].
Educated at Bath College and St John's College Oxford, in his youth he was a close friend & acquaintance of Oscar Wilde. He went on to study at the Slade School of Art in London, forming close friendships with many notable artists of the day such as Robert Ross, Henry Tonks and William Rothenstein. After a period of several years enjoying the life of an aesthete, amateur archaeologist, art connoisseur & dilettante, including a disastrous first marriage and some form of mental breakdown, in the early 1920s he suddenly turned his hand to innkeeping, a decision which brough a greater sense of respectability to the wider profession and a degree of personal fame, if not fortune, to himself.
Journalist Craig Brown once described him as a sort of bygone Basil Fawlty figure, who, like Fawlty, coupled a deep belief in the observance of social etiquette with a furiously explosive rudeness. For him the persona of angry put-upon host & innkeeper came all too easily, revealing a man who seemed more than happy to take it out on those of his guests to whom he took a particular dislike, even, in some cases going so far as to charge the ugliest & least sophisticated extra "face money" of 6d per person for simply "not being beautiful". As he noted amusingly in his book:
"…surely this was a more praiseworthy action than the usual one of charging people extra because they are beautiful, well-bred and dressed?"!
Yet it was not only the sense of club-like social exclusiveness that brough so many well-heeled visitors flocking to The Spreadeagle, it was equally Fothergill's authentic cuisine and distinctive style of cooking.
In An Innkeeper's Diary, he described three kinds of Kitchen:
The French, where the food doesn't taste of what it is, or ought to be, but tastes good :
English hotel, where the food, when even it is food, doesn't taste of anything, or tastes badly :
Our kitchen, and the true American, where the food is food, tastes of it, and tastes good.
Philip Harben, writing to The Times after Fothergill's death in September 1957, wrote this:
John Fothergill – a man whose affection and friendship I cherish amongst my proudest possessions – brought the full might of a painter's skill and genius to the kitchen stove. To him food was not just fodder: in his hands it could reward a multitude of the senses and evoke eye, palate and nose sensations that made his dishes comparable with emotions evoked by great poets, musicians snd painters….He achieved something in gastronomy which was never achieved before and may never be achieved again, He was "un orginal"…I am speaking of him purely as a cook…when I say he was a very great man….
Amongst those who were regular vistors to The Spreadeagle were George Bernard Shaw, lovers H G Wells & Rebecca West (who often stayed together in Room No.7) , Evelyn Waugh, David Garnett, G K Chesterton, the Sitwells, Augustus John, John Nash and many others, including the theatrical impresario dynasty, the D'Oyly Cartes.
Fothergill proved especially popular with Evelyn Waugh, who gifted a copy of Decline and Fall to him with the inscription "Oxford's only civilising influence". And in Brideshead Revisited, Waugh had Anthony Blanche take Charles Ryder to dinner at the Spreadeagle to sample Fothergill's signature dessert dish – Mavrodaphne Trifle:
"We are going to Thame, there's a delightful hotel there, which luckily doesn't appeal to the Bullingdon…."
Fothergill recounts the background to the making of this dessert in his 1940 Cookbook:
Mavrodaphne Trifle
When I first started Innkeeping, looking round for all good things I'd had abroad, I sent for a load of Mavrodaphne wine that was so delicious in Greece because, I suppose, the only other wine, Rezinata, tasted of violin strings. But once in England, I found I had no use for it, until, in despair, I put it into the trifle and have used it ever since. It is a very sweet, aromatic sort of malmsey :
Split a sponge sandwich into three. Spread each slice with raspberry jam, custard and Mavrodaphne. Cover with whipped cream…..
As one of Fothergill's closest friends, Spencer Hoffman played a prominent & influential role in the general promotion & marketing of The Spreadeagle.
The original Inn's signpost was redesigned by Fothergill in 1923 and strikingly painted by the artist, Dora Carrington [1893-1932]. And in 1926, it was finally repositioned on the main street, directly in front of the Hotel, with Spencer Hoffman doing its "beautiful lettering" (Fothergill's words).
In January of the previous year, 1925, Spencer Hoffman's designed his first pictorial map of Thame and environs. It was specially commissioned by John Fothergill and in the attractive & imaginative bird's eye format that would characterise most of his subsequent maps.
It depicts the village of Thame and the surrounding district in a seven mile sweep to the north and north-west, with special focus on the Hills, Villages, Churches and the Houses of the Great and the Good, and, of course, on The Spreadeagle itself, whose symbolic sign and armorials appear top centre & top right, along with a charming roundel illustration of the Inn lower right. It is interesting to note that the map was printed by Sir Emery Walker [1851-1933], one of the foremost fine art engravers & printers of the time.
Because of its relatively small print run and ephemeral nature, the map is now exceedingly scarce.
When he sold The Spreadeagle in 1934 and moved on to the Royal Hotel in Ascot, Fothergill's greatest regret was that his Inn would not be able to live on in some enduring tangible form, like art or books could do, and would only exist in the memory of those who had been there. He mused:
"People praise me for running an individual and yet decent place. To me there is no secret in it, though others might not be able to do it so well. It's only hard work and a lot of thinking, and sticking convincedly to a policy once rather blindly formulated. But I'm discontented. Our Inn cannot hang on the walls of galleries or be read in winter evenings 200 years hence for others to enjoy as we have enjoyed it…."
Spencer Hoffman's unique map can, of course, be hung on the wall and offers us, a Century later, a fleeting visual glimpse into the world that Fothergill sought so desperately to create through his own remarkable efforts and eccentric personality at The Spreadeagle in Thame between 1922 & 1934.
Spencer Hoffman's map also gave rise to a charming poem, inscribed by hand on Fothergill's own example and penned by satirist, Edmund (E V) Knox [1881-1971], editor of Punch magazine during the 1930s & 1940s.
The Village of Brill
Is Built on a Hill
When you Stop
At the top
The great thing to do
Is to look at the view
From the Mill
That is marked on this map
Produced by a chap
Called John Fothergill
The map was also apparently an influential catalyst in Spencer's Hoffman's most significant & spectacular pictorial map commission : the stunning 1927 wind-dial map, designed for Rupert D'Oyly Carte [1878-1947] to adorn his recently built country mansion, Coleton Fishacre on the south Devon coast, now a National Trust property.
As Fothergill notes in An Innkeeper's Diary (p.140):
The kind-natured D'Oyley Cartes came with their usual big party. It differs from other parties, It has as much noise as the jazz type, but it's laughter and not scream, running water not gin, ripple not tipple…People must have been funny and happy in well-bred Victorian days without either sex or good clean fun and this party must be an echo of it. Having seen the map Hoffman did for me, they had him do one 6 ft long for their house in Brixham….
Commissioning a pictorial wind-dial map for their new & refurbished country houses had become something of a interior design fashion statement for the Great and Good of pre- & post-World War One Britain. MacDonald Gill received several such commissions during the period between 1909 and 1926, including a number from go-to society architect of the day, Sir Edwin Lutyens [1869-1944]. Foremost amongst these were those at Nashdom [1909] & Howth Castle near Dublin [1910] and another at Lindisfarne Castle [1913]. Others followed in the early 1920s, including one Gill also completed at Spencer Hoffman's alma mater, Trinity College, Cambridge, in 1926. Interestingly Coleton Fishacre was designed by Oswald Partridge Milne [1881-1968], formerly one of Lutyen's assistants. The wind-dial map at Coleton Fishacre would appear to be Spencer Hoffman's only such design.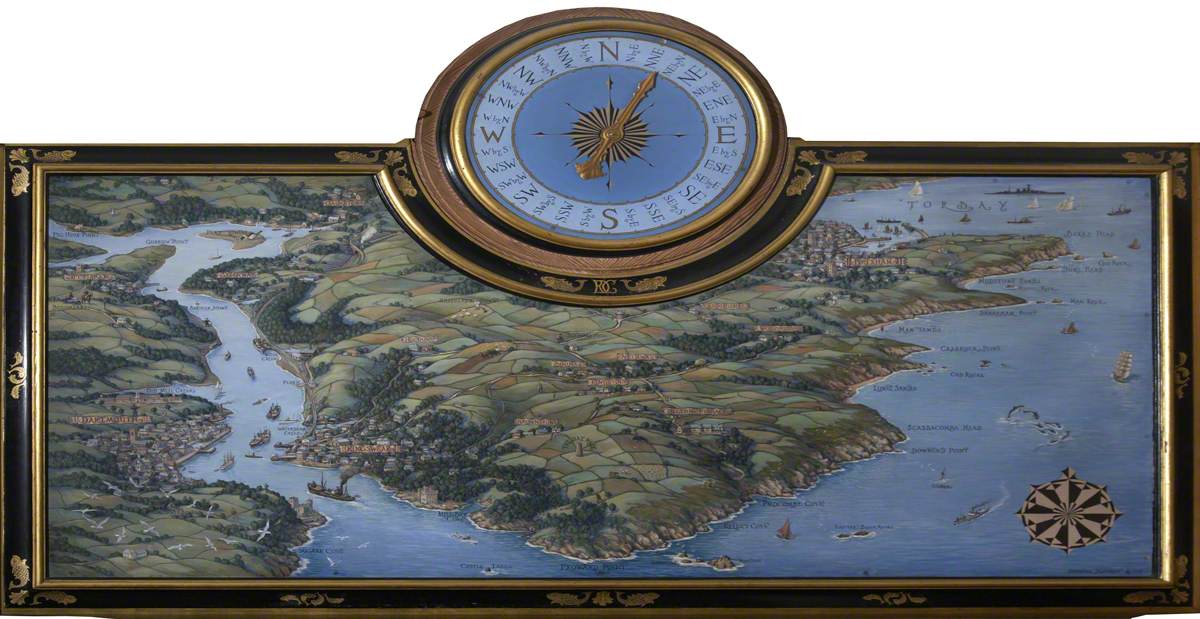 The compass is an indicator of the wind direction and was connected directly to the weather vane on the roof of the house. Rupert D'Oyly Carte was a keen sailor in the adjacent coastal waters around the Dart Estuary so needed to have an accurate indication of the prevailing wind and weather conditions before venturing forth from the house to his nearby boathouse. The map depicts a sweeping aerial panorama of the whole South Hams region, including Dittisham and Galmpton in the West, the Dart estuary with Dartmouth and Kingswear and along the coast to Brixham and Torbay in the East. It also includes a charming vignette of Rupert D'Oyly Carte himself shown walking down the cliff path below Coleton Fishacre to Pudcombe Cove with his favourite white Dalmatian.
Spencer Hoffman's growing reputation & popularity as an artist is perhaps also reflected in the Exhibition of watercolours & gouaches that he held with pastel specialist, H Stewart Wallace, at the Graham Gallery in London's New Bond Street in April 1926. The Times was somewhat muted in its praise, noting that "without rising to great heights, both artists make a respectable appearance", further describing Spencer Hoffman as "primarily a draughtman, rather small in style" but able "to get good value out of grey subjects", for example in his pictures of The Clyde (Renfrew Ferry), Dumfries and Four Chimneys. The Exhibition also included several of his wartime sketches in France, including a ruined interior entitled Arras (April 1917) .
Between about 1928 & 1930 he was commissioned by London map sellers George Philip & Son, of 32 Fleet Street, to design a series of so-called "Wayabout Maps". These were superbly crafted, imaginative bird's eye perspectives created to help travellers and tourists negotiate their way around the historic English cities of Cambridge (No.1), Oxford (No.2) and Canterbury (No.3). Further City maps appear to have been planned but seemingly never got beyond the drawing board.
The three maps were published in both colour and black & white. The former were initially offered at a price of 2s 6d (later reduced to 1 shilling) and the black & white examples initially sold for 1s 3d (later reduced to 6d)
In 1931, continuing the popular success of the Wayabout, Spencer Hoffman was commissioned to design a similar bird's eye map entitled Legal London, focusing specifically on the area of the medieval Inns of Court, Temple Bar, the Courts of Justice and the Old Bailey, where so much of the London legal profession has traditionally had its home.
The map was reproduced in a special facsimile edition published by the American Bar Association (ABA) in the early 1970s.
Working alongside Coleton Fishacre's architect Oswald Partridge Milne, in 1933, Spencer Hoffman was closely involved in the design and construction of a new Science Block & Gymnasium at Bedford School, originally founded in 1552 and located in the historic town of Bedford. Milne himself had been one of its former pupils.
The new Science building was officially opened by the Prince of Wales (the future Edward VIII) in a much delayed & notably informal ceremony which features in a short November 1933 newsreel clip recorded by Pathé News
An article in the Bedford Times & Independent of Friday 27th October 1933, highlights Spencer Hoffman's particularly important contribution to the interior decoration of the new block:
A broad and handsome staircase with bannisters of jarrah wood leads to the upper floor, and on the way up the visitor notices two remarkable wall-paintings by Mr Spencer Hoffman. One of these is a plan of the School estate, showing in colour relief the various buildings and their setting. Above are the arms of the town, of the School, and of New College, Oxford, and below appear several house colours in shields. The other painting is a map of the environs of Bedford, covering an area of which the villages of Felmersham, Great Barford, Ashwood and Wilstead are roughly the extreme points. In the map are painted tiny pictures of characteristic and symbolic scenes – John Bunyan at Elstow, a stag at Stagsden, houses and churches, brickworks and railways, while at Wilstead, a fox is making off with what appears to be a goose. By contrast with these touches of old-time pleasantry, and ultra-modern note is struck (figuratively that is) by the caseless electric clock over the landing, with figures and hands in chromium-plated metal…..
In October 1933, another of Spencer Hoffman's cartographic commissions, A Prospect of the Parish of St. Luke Chelsea 1933, first appeared in print. It was published in Chelsea to raise funds for the local parish and support unemployed parishioners. Small & large copies of the map as well as a Christmas card version were offered for sale at the "Chelsea Home" Fair at Chelsea Town Hall at the end of that month, when the Fair was officially opened by Lady Maude Hoare and Dame Sybil Thorndyke. The original manuscript version of the map was apparently presented to Chelsea Library at the time, though we have been unable, as yet, to track down in current whereabouts nor indeed any printed examples of this evidently rare map.
Two years later, in June 1935, Spencer Hoffman published his one and only book, a special commemorative volume to mark the construction of the new City of London headquarters of the Scottish Widows Fund & Life Insurance Company at No.28 Cornhill. It was entitled 2000 Years of the City of London. Penned by himself, the book was beautifully illustrated with several bird's eye maps and numerous fine sketches depicting the urban development of the City of London since Roman times.
It also included sketches of archaeological finds made at the Cornhill site during the construction of the new building. Copies of the book were presented to guests at the official opening ceremony in July 1935.
In the early 1930s Spencer Hoffman moved with his wife and eldest son, Henry Lovell, to 4 Heath Mansions on Putney Heath Lane. They moved again, in about 1933, to 109 Upper Richmond Road, SW15.
In about 1937, Spencer Hoffman finally retired and he & his wife relocated to the quiet coastal hinterland of West Sussex, taking up residence at Rock Cottage in the hamlet of Apuldram, about two miles from the centre of Chichester and on the upper reaches of Chichester harbour.
It seems probable they had acquired the cottage two years earlier, in November 1935, when it was offered for sale at auction by Messrs Wyatt & Son of Chichester. The auction details described Rock Cottage as "an Old fashioned Residence…. containing 4 Reception rooms, 7 Bed and Dressing rooms, Bathroom etc, standing in well-laid-out Old World Grounds with Tennis Lawn…in all about one acre…."
In retirement, as well as sailing and birdwatching, Spencer Hoffman became actively involved in the local West Sussex art scene, playing a major role in the revival of the Chichester Art Society and in the post-war regeneration of the artistic & cultural life of the town. He was elected the Society's chairman in 1946 (and annually thereafter, until the time of his death) and was a regular contributor to its annual Art Exhibitions.
A large collection of his work, including numerous watercolours, bundles of First World War sketches, and original sketchbooks, one featuring a series of attractive original pastel portraits, was sold by auctioneers Richard Winterton in Lichfield in February 2014.
Spencer Hoffman's wife, Charlotte sadly passed away in March 1948. George himself died nearly two years later, in early January 1950, aged 74.
So ended a remarkable life, and with it, a unique & highly distinctive contribution to 20th Century British art and pictorial cartography. One that has, until this point, gone largely unrecognised. Hopefully that undeserved & longstanding omission has finally been put to rights!